COVID 19 – RESPONSE AND UPDATES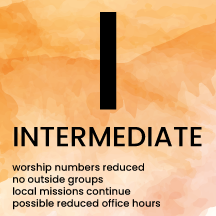 Monday, November 23, 2020 update:
ECOB Phase: Intermediate
Changes: No outside groups using facility, Worship Attendance 75 max, office hours changed to: Tuesday, Wednesday & Thursdays, 9 am – 3 pm.
In accordance with the metrics discerned, the Leadership Team, along with Pastor Brian, are moving ECOB to the Intermediate Phase of our protocol.
This means that we will stop all outside groups from using the building until the phase moves back to medium. In addition, worship attendance will be limited to 75 people max; however, it will likely be below that number. In addition, we will be reducing office hours to: Tuesday, Wednesday & Thursday from 9am – 3pm. We will still answer phones and care for your needs on Monday and Friday; however the doors will be locked and no one will be allowed into the building. ECOB ministries will continue as normal – as long as the previously stated mitigation is adhered to. Finally, because the numbers in the last week, according to our agreed metric has doubled, it is very possible that we will not wait a full two weeks to change phasing. Please keep your eyes and ears open for any changes. Above all, please pray for those in our church family and community that have been and will be affected. If you need anything, please contact Pastor Brian or Trish Schlegel.
—–
We are aware of the ongoing changes that the COVID-19 virus presents to us as a congregation, community, nation, and world.
Below, you will see information about the virus, letters that we have sent to our congregation, as well as information on ways that you can help, or ask for help during this time.
You are not alone, friends, God and the people of ECOB are with you, cheering you on, praying for you, and here to support you if you have any need.