Thank you for giving to God His tithe and your offerings or donations.
Each of you should give what you have decided in your heart to give, not reluctantly or under compulsion, for God loves a cheerful giver. – 2 Corinthians 9:7
At ECOB, we believe that giving is about our spiritual discipline with God.  It is not about giving to the church, rather, to honor God with the first fruits that we have been blessed with.  We give to God through the church in order for God's kingdom to be expanded, for disciples to be encouraged, and for the ministry of Jesus to be revealed locally, nationally, and globally.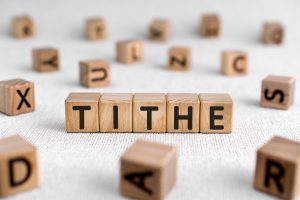 As you give, give with a joyful heart, knowing that your gift will be multiplied and bless so many.  Below, you will find a number of ways to give; however, we strongly suggest you use the TITHE.LY app.  Through TITHE.LY, you can set up a one time, or reoccurring gift for your tithe – and – designate your offering (above and beyond your tithe) to a specific ministry and/or mission at ECOB. In addition, in order to save ECOB on the fees associated with online giving, you can even indicate that you are willing to cover that cost – this would save the church thousands of dollars each year!
For those of you who are connected to "THE HUB", you can click here to access your giving records. NOTE: If you are not part of "THE HUB" and wish to be, please click here and email Carol Bowman, Director of Connection & Care.
Thank you, friends, for honoring God for your faithful discipline of giving.
TITHE.LY
2 easy ways to tithe and give
1) Click the button below and access the TITHE.LY site – make sure you set up re-occurring giving – the best option for consistent and generous giving. In addition, you can opt-in and help ECOB cover the fees associated with online giving!
2) Download the TITHE.LY app – you can download this app through Itunes or Google Play.  Once in the app, search for Ephrata Church of the Brethren, enter your bank/card information and set up a one time or re-occurring gift easily!